Electronics Integrators: The Right Fit for High-Tech OEMs
Unlocking More Value Across the Value Chain in an Innovation Driven Market
OEMs need more out of their suppliers than transactional, commodity based relationships to stay ahead in an innovation driven market. Take a closer look at the unique traits of a low volume, high mix electronics integrator, and learn how to unlock more value across the value chain.
In this article we discuss:
The role of true electronic integrators versus "build to print" suppliers


Why the "right fit" matters when selecting an EMS partner

How to unlock more value in areas of flexibility, risk mitigation, speed and innovation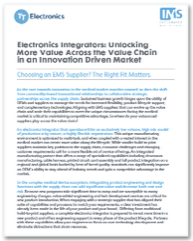 Complete this form, and begin your free download.